Australia's longest running choir for the homeless and socially disadvantaged, the Sydney Street Choir, teamed up with X Factor winner Dami Im, Australian Idol alumni Paulini and pop royalty Deni Hines to perform at a special relaunch event at the Sydney Opera House today with former breakfast radio host Bianca Dye picking up the mic once again to MC the event.
The uplifting event announced the Sydney Street Choir's exciting new corporate, education and charity patronage programs, new website and Foundation Partnership with leading Australian property company, PAYCE, whose support has provided a strategy for the long-term sustainability of the historical choir, which until this year was facing the dire risk of disbanding due to a lack of support.
The Sydney Street Choir, led by Director James Paul – well known for his work with youth and disadvantaged groups around Sydney- performed a number of popular musical renditions that touched the audience, including the Beatles' Let It Be, soul favourite Amazing Grace and even Dami Im's new heart-warming single, Smile.
M John Sidoti, Parliamentary Secretary and Member for Drummoyne was in attendance representing the NSW Government, as well as PAYCE's General Manager, Dominic Sullivan, who both spoke in support of the Choir's great work and the need for it to continue.
Mr Sullivan used the event to make a surprise revelation to guests, announcing PAYCE's extended support of the Sydney Street Choir, which hopes to give the Choir financial stability in the years ahead.
"The Sydney Street Choir's love of singing was extremely evident today and has shown that music is a focal point in many of their lives," he said.
"I would like to announce that PAYCE has committed $60,000 over the next three years, as well as in-kind support, to help develop and implement a number of initiatives to keep the Choir singing.
"This includes helping the Choir work more closely with the corporate sector through new partnership programs and an innovative corporate workshop model; an expansion of their education program with schools; and the new personal patronage initiative with the 'Friends of Sydney Street Choir' membership," Mr Sullivan continued.
Choir Director, James Paul said the launch event was a huge success and is thankful for the support of PAYCE.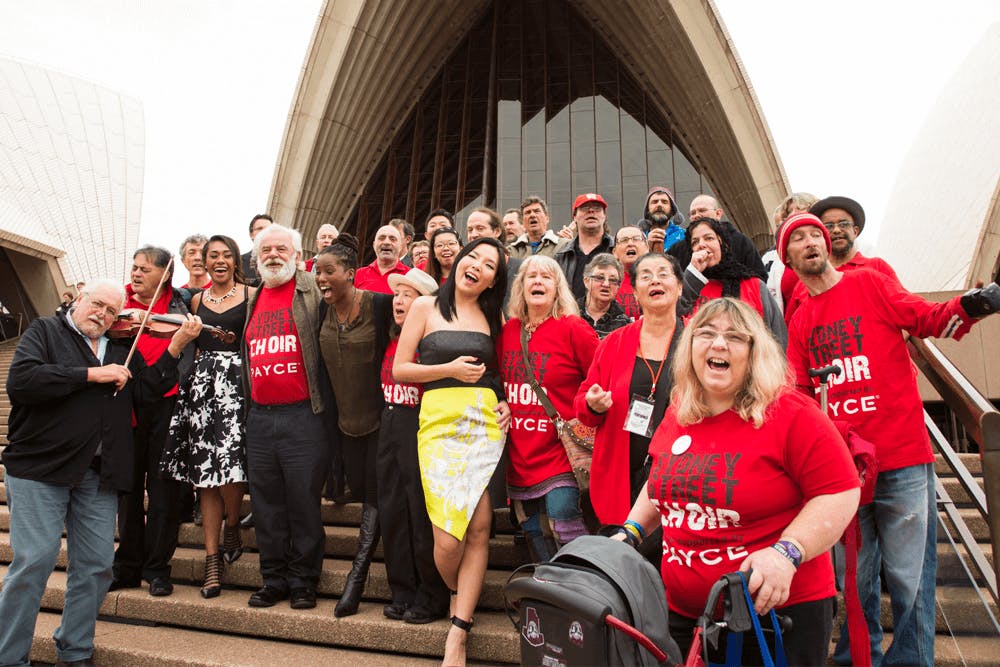 "Today's performance at the Sydney Opera House was tangible proof of how people's lives can change in a positive way through the power of song and the support of the community," Mr Paul said.
"Until we partnered with PAYCE, we were looking at the potential breakdown of one of the most transformative community programs assisting Sydney's homeless and disadvantaged.
"Not only has this program impacted lives by empowering members to join the workforce or study, but it has also driven profound emotional change, for some helping members to find a voice after years of not speaking to another soul," Mr Paul explained.
"I applaud PAYCE for its commitment to make a difference to the lives of people who are less fortunate than most of the community.
"We are hopeful today's event will inspire Sydney's corporate, education and residential community to get behind this essential support program for Sydney's homeless and disadvantaged," Mr Paul stated.